Online Marketing Fallstudien
Wir freuen uns, die Erfolge unserer Kunden zu feiern. Lesen Sie unsere Online Marketing Case Studies und freuen Sie sich mit uns!
Im Rahmen dieser Online Marketing Case Studies haben wir uns tief in die individuellen Marketingkampagnen unserer eigenen Kunden eingearbeitet, um mit Ihnen das teilen zu können, was wir als erfolgreich empfunden haben.
_______
Schauen Sie sich diese Online Marketing Case Studies an, um zu erfahren, wie Adplorer lokalen Unternehmen hilft, ihren Kundenstamm zu erweitern. Sehen Sie sich Beispiele aus der Praxis an, wie die Pay-per-Click-Werbe-Software und andere Tools von Adplorer die Verwaltung Hunderter lokaler Kampagnen einfacher und effektiver denn je gemacht haben.
Co-working spaces in France have had great success in the last decade for several reasons: •These workspaces allow people to break out of small, isolated office spaces and engage with the co-working space's business community.•These well-designed spaces are often in a great location, and offer a full range of services and amenities included with the rent.The number of co-working spaces in France increased from 20 in 2012 to 165 at the end of the first half of 2017
Oxi Fresh is a leading commercial and residential carpet cleaning franchise with 300+ locations across the United States and Canada. Locations rely heavily on Google Search Ads to drive new business. Adplorer has provided a solution harmonizing the local campaigns and measuring local ROI, helping Oxi Fresh monitor and improve the return on Google Ad.
E-Motion is a franchise made up of 45 locations in Germany, Switzerland and Austria. They are experts in German electric bikes, and position themselves as a reseller able to advise and support the consumer after their purchases.
E-Motion quickly encountered problems related to the standardization of local marketing for each franchisee. No business owner has the same strategy and interest in digital advertising, and some platforms were difficult for the franchisees to access.
Die unten stehende Studie über Adplorer wurde von Google Ads API Team erstellt. Viel Spaß beim Lesen!
Adplorer Platform Harnesses the Power of Local Ads for Distributed Enterprises
For distributed organizations like franchise systems, retail chains, and other enterprises with local branches, market insights gained through years of building strong business relationships in local communities are an invaluable asset. But harnessing that knowledge for local online advertising can be logistically complex and costly for many businesses.
Seeing an opportunity to help its clients tap into local market insights at scale, SEM platform provider publoCity (today Adplorer) decided to leverage the regional market knowledge of its local affiliates with help from the automation and programmatic controls of the AdWords API.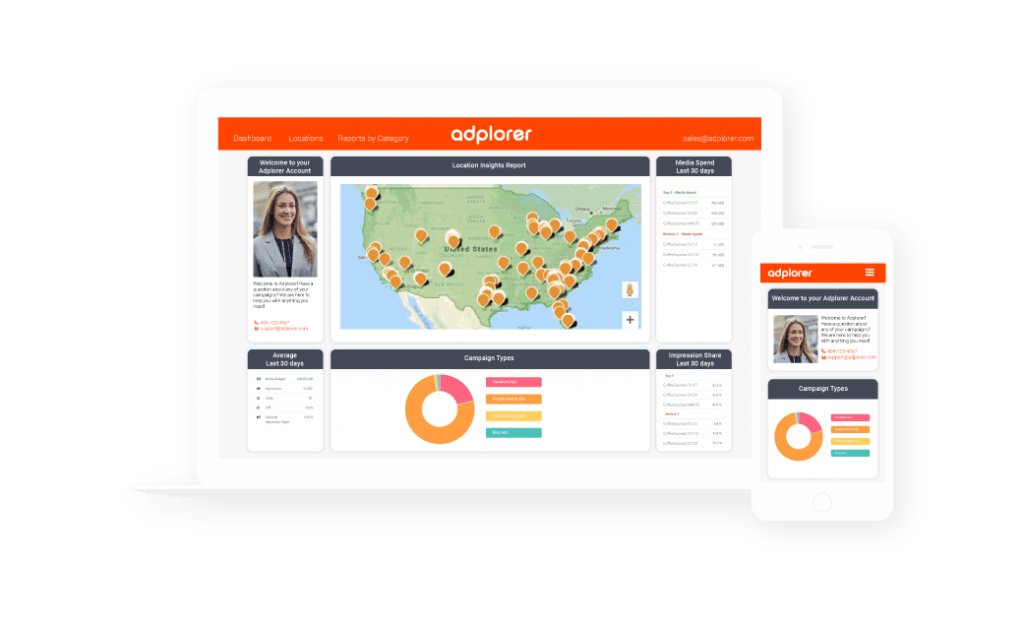 Kontaktieren Sie uns noch heute, um zu erfahren, welche Programme am besten für Ihr Agenture oder Multi-Location-Unternehmen geeignet sind!